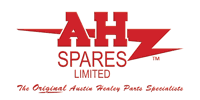 IMPORTANT NOTICE
We will soon undergo an essential systems upgrade. Because of this we will be closed between the following dates.
1:00pm on Tuesday 15th until 1:00pm Thursday 17th July 2014.
You will still be able to place orders though our website but we will not be able to process any orders until we re-open.
This upgrade will help us continue to deliver the highest standard of customer service, as well as improve on our already high order fill rate.
We apologise for the inconvenience and hope to be up and running as soon as possible.