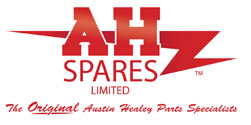 Hello [FIRSTNAME],

Rawles Classic Motorsport will be holding their annual Open Day on Saturday 10th October between 10:00am and 2:00pm.
A.H. Spares as Guest Supplier

A.H. Spares will be present as a guest at Rawles Motorsport Open Day again this year.

As in previous years, we will be bringing any pre-placed orders down with us for collection on the day.

Why not take advantage of this free delivery service and take advantage to speak with one of our Sales team.
The Open Day

October 10th will be our big "thank you" event for customers and the classic car community, please join us between 10am and 2 pm.

In 204 over 120 cars attended the event representing over a 120 years of motoring, from Adler to Aston, and as you would expect one of the finest collection of the Austin Healey marque in the UK.

There will be live demonstrations of the rolling road, upholstery, panel beating, and highest quality painting techniques.

Some very special cars will be here again and this year there will be demonstrations of some very loud racing bikes.

Over 200 complimentary burgers will consumed along with 500 cups of hot beverage in what has to be the nicest, most pleasant and relaxed car show in the South!
Website: www.ahspares.co.uk | Tel: 0044 (0)1926 817181 | Email: sales@ahspares.co.uk