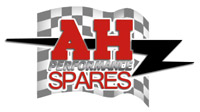 A Month of Double Celebrations for AH Spares!!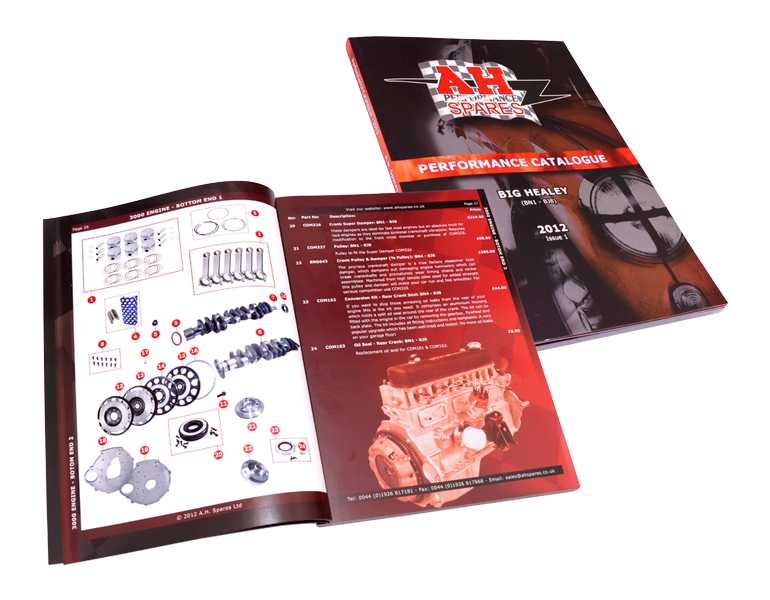 We are pleased to announce the arrival and launch of our new A.H. Performance Spares catalogue. Whether you are a serious competitor or just looking for a little more from your Big Healey, our new catalogue is packed full of quality parts to enhance the enjoyment and performance of your car.
We are also proud to be celebrating the brilliant win of the prestigious John Gott Memorial trophy by our sponsored Healey racing team 'Austin Healey Racing Sweden' at the International Big Healey race held at Castle Combe near Bristol.
Using all our performance parts and driven by the hard charging team driver Anders Schildt confirms that all our parts are tried, tested, evaluated and proven to win races. We have no secrets and all our parts are available to all so why not take a look for yourself and contact us today for your copy.
All of our catalogues are free of charge, however due to the high cost of postage we must request a small contribution as outlined below:

Postage is additional as follows:

UK £2.50

EUROPE £5.50

REST OF THE WORLD £9.50

The John Gott Memorial Trophy – Race Synopsis
A week on and still celebrating winning we are pleased to report that Anders Schildt is now the only non-British Healey Driver to have won both a UK National and International Healey race on British soil within the last 30 years!
His red & silver Healey dominated the 21 car grid in an action packed, intense 45 minute race against all of the top European Big Healey racers crossing the line more than a minute ahead of second place.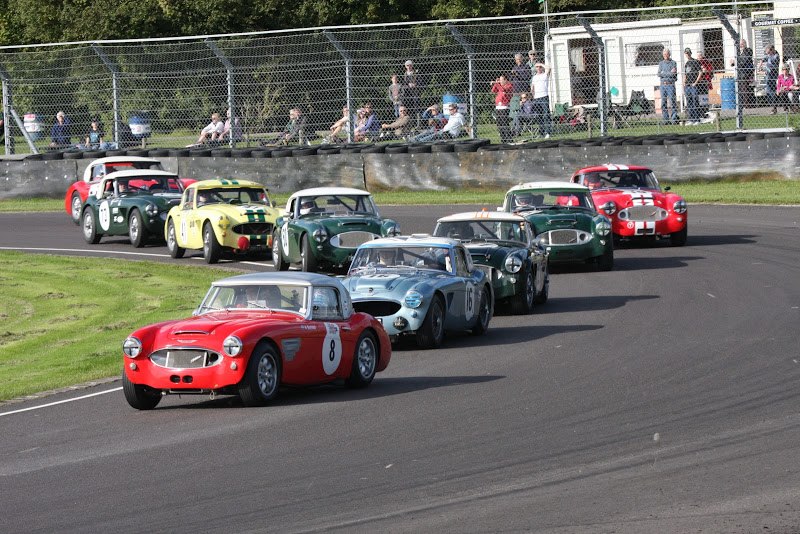 Post race Anders told us; "A chilly 6°c on a wet and slippery track made qualifying very tricky on this unfamiliar circuit and finding the correct tyre pressures and the fastest line was a real test, so being positioned 4th on the grid was a little disappointing and not the pole position I was aiming for".
However with not much time to set the Healey up for this new circuit and Anders busy working out his race tactics the team felt under pressure to get everything in place for the start of the race.
With the weather improving and the track drying out the challenge was not underestimated, but lining up on the second row Anders made a great start passing cars immediately through the first right and then by the Quarry he out braked the local touring car professional driver to take the lead.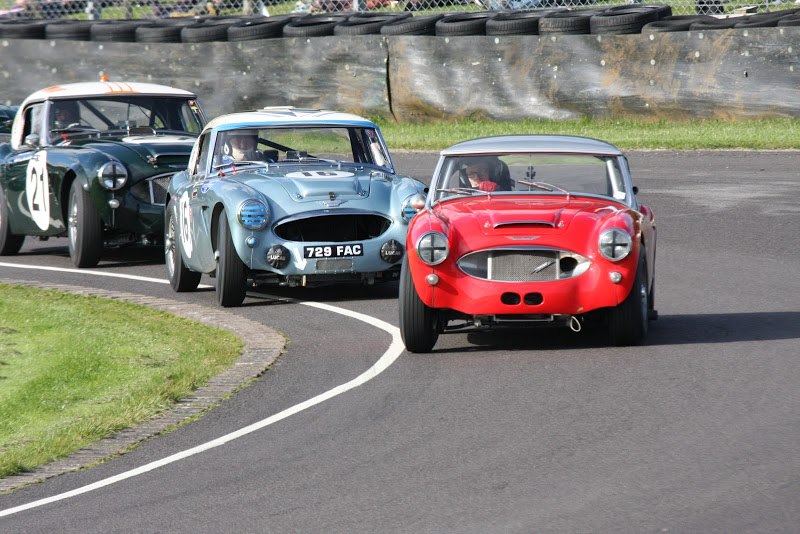 Staying ahead of the field with the others trying hard to catch the red & silver Healey Anders made his compulsory one minute pit-stop as soon as the pit-window opened, then re-joining the race in 4th position, however it wasn't to be for long.
Once the rest of the field had completed their pit-stops Anders was back in front and things were looking good, well that was until a safety car incident eradicated his lead once more!
With it all to do again Anders and his Healey dug deep and performed a crowd pleasing spectacular drive blasting his way toward the chequered flag 1 minute and 19 seconds ahead of second place.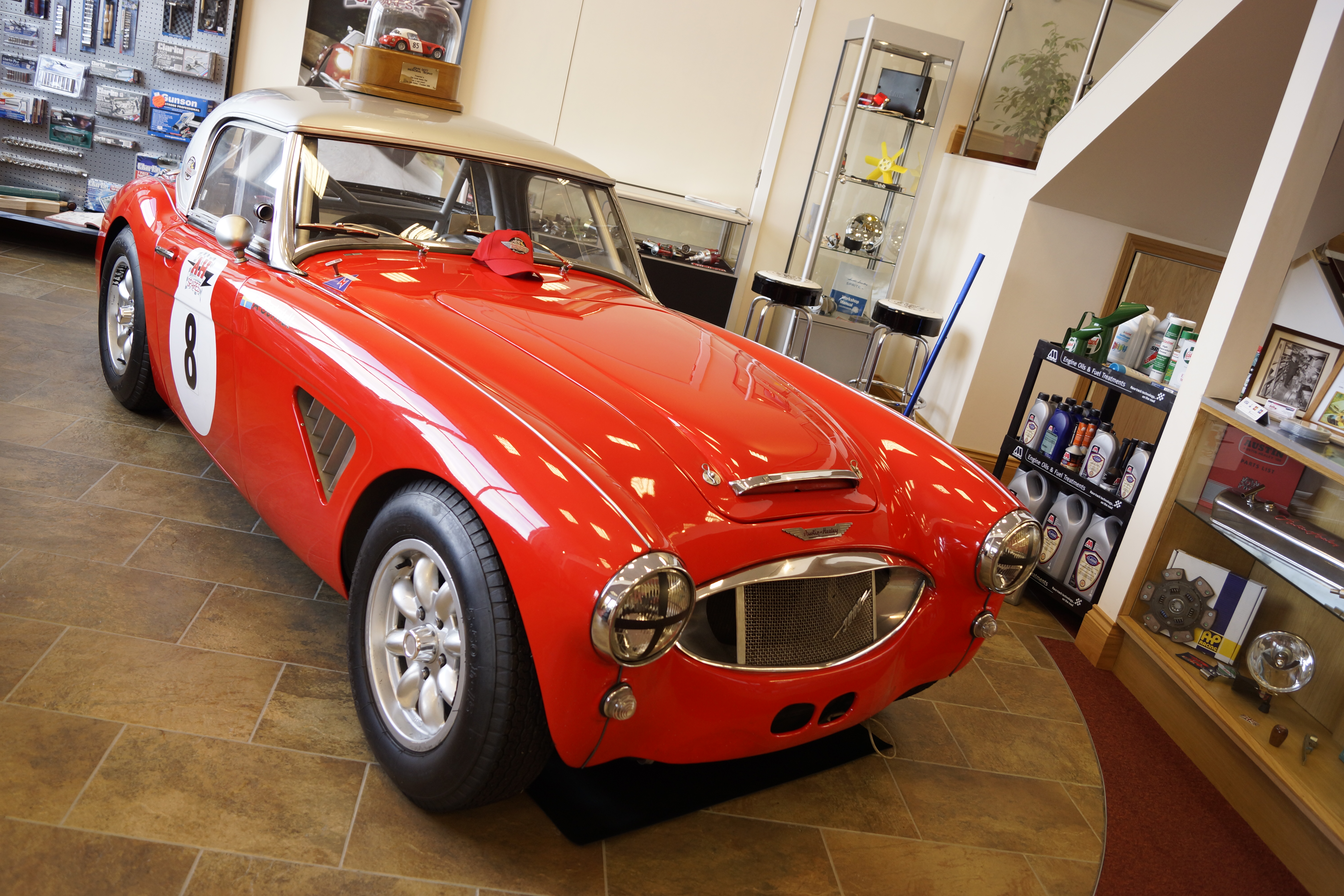 A truly triumphant day for all!

On behalf of all at A.H Spares Ltd and Austin Healey Racing Sweden we would like to offer our gratitude to the organisers for making this race possible and to all the drivers that took part.
The race winning car is now on display in our showroom for all our customers to see.