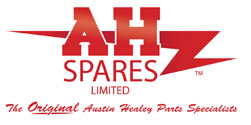 Hello [FIRSTNAME],

Did you have a nice Easter break?

You may have seen the special episode of "Car SOS" in which the team restore the only surviving Austin-Healey Sebring Sprite as originally driven by Pedro Rodriguez in 1962. Sir Stirling Moss, Steve McQueen and Innes Ireland all drove the three sister cars, none of which sadly exist.

We had the honour and pleasure to supply a range of spares to restore the car to it's original condition.

You can catch up on this episode of Car SOS on the National Geographic channel on the following dates (UK):

Wednesday 15th April at 10:00pm
Thursday 16th April at 7:00pm
Tuesday 28th April at 6:00pm
New Parts Now Available
100/4 Complete Alternator Kit - 45amp
Part No: ELG250
Application: BN1 - BN2
Retail Price: £149.95 + VAT
Our alternator conversion is a complete kit. It includes the lightweight aluminium mounting bracket, fan belts, cooling fan, pulley's, 45-amp alternator and all the necessary fittings and detailed installation instructions. We have included a choice of pulleys and fan belts so that the same kit will work for original cars plus cars fitted with the narrow fan belt conversion kit.

This upgrade is a must for any person wishing to build a rally car or up rate their standard car to fit extra lights, Kenlowe cooling fan or a music or security system etc.

For right hand drive cars the adjusting strap (COM181) may also be required to avoid the steering column.
Lock Mechanism - Right Hand
Lock Mechanism - Left Hand
Part No: DRF128
Part No: DRF129
Application: BJ7 - BJ8
Retail Price: £67.95 + VAT
Application: BJ7 - BJ8
Retail Price: £67.95 + VAT
Worn door lock mechanisms can cause the problem of poorly closing doors and even allow them to open unexpectedly.

Cure these problems with our newly tooled door lock mechanisms made to a very high standard and have peace of mind that you won't get from a used part.
Website: www.ahspares.co.uk | Tel: 0044 (0)1926 817181 | Email: sales@ahspares.co.uk