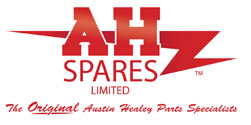 As close to the originals as possible, these Cooper Type air filters have the correct colour paint and finish and use UNF bolts.

They also have a flat backs so that the original thin gaskets can be used.

Each filter comes with a copy of the original decal & 2 fixing bolts.
Air Filter - Front & Centre | Tri-Carb
Part No: FUL257
Application: TRI-CARB
Retail Price: £23.95 + VAT
Air Filter - Rear | Tri-Carb
Part No: FUL258
Application: TRI-CARB
Retail Price: £23.95 + VAT
Air Filter - Front | BN4 - BJ7
Part No: FUL259
Application: BN4 - BJ7
Retail Price: £23.95 + VAT
Air Filter - Rear | BN4 - BJ7
Part No: FUL260
Application: BN4 - BJ7
Retail Price: £23.95 + VAT
Air Filter - Front | BJ8
Part No: FUL261
Application: BJ8
Retail Price: £23.95 + VAT
Air Filter - Rear | BJ8
Part No: FUL261
Application: BJ8
Retail Price: £23.95 + VAT
Website: www.ahspares.co.uk | Tel: 0044 (0)1926 817181 | Email: sales@ahspares.co.uk