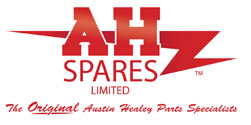 Ball Joint Throttle Linkage
Part No: FUL271
Application: BN4.50759 - BJ8
Retail Price: £5.20 + VAT
We are pleased to announce that our new and improved stocks of the FUL271 throttle linkage ball joints have now arrived.

We were not happy with the quality of the currently available parts so we have manufactured our own. Ours are high quality and operate smoothly with no free play.
Website: www.ahspares.co.uk | Tel: 0044 (0)1926 817181 | Email: sales@ahspares.co.uk