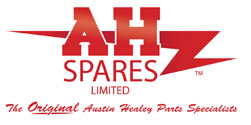 Adjustable Trunnion Kit
Part No: SUF105A
Application: BN1 - BJ8
Retail Price: £115.95 + VAT
All Austin Healeys benefit from having adjustable camber to achieve the utmost from modern tyre design. As you can imagine due to the age of these magnificent cars, there is a high probability that few have evaded accidents and inaccurate repairs.

This kit allows you to adjust the wheel camber angle quickly and easily without the need to strip the front suspension down.

Make sure your car brakes in a straight line and benefits from self-centring steering, further increasing the enjoyment of driving your beloved Healey.
Website: www.ahspares.co.uk | Tel: 0044 (0)1926 817181 | Email: sales@ahspares.co.uk