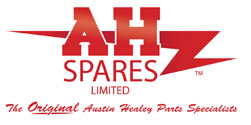 Split Tonneau Rail (2-Parts)
Part No: HOD216S
Application: BN4.68960 ON & BT7
Retail Price: £37.50 + VAT
Tired of the original awkward one piece tonneau bar? Then A.H. Spares has the answer.

Taking the idea of the later design for the BJ7's and BJ8's we have had made these easy to store tonneau rails made in two pieces.

Not only are they easier to handle and install but they also overcome any slight variations in the cars' dimensions.
Website: www.ahspares.co.uk | Tel: 0044 (0)1926 817181 | Email: sales@ahspares.co.uk