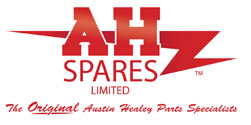 Shock Link
Part No: SUR115
Application: BN1.221536 - BJ8.26704
Retail Price: £23.95 + VAT
A.H. Spares have decided that it was about time someone made a correct reproduction of the O.E. shock absorber links.
We have invested in our own tooling so that you can finally buy the correct looking part. We have also had the rubber bushes fully bonded as per the originals.
Website: www.ahspares.co.uk | Tel: 0044 (0)1926 817181 | Email: sales@ahspares.co.uk