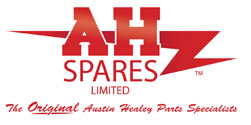 Le Mans Classic - 8th Edition | 8th - 10th July 2016
This event at Le Mans Classic will be marked by a significant presence of the Austin Healey. The Austin Healey Club of France and Austin Healey Owners Club Néerderland join together and will be present in two areas side by side, well located close to the paddocks. There are nearly 120 Healey who are expected this year and many other marvelous classic cars.

Encounter 2016 | 10th - 13th August 2016
The Austin-Healey Sports & Touring Club (www.ahstc.org) is returning to its four-day, family oriented meet next August 11 through the 13th in the historic town of Old New Castle, Delaware.

Beaulieu International Autojumble | 3rd & 4th September 2016
The Beaulieu International Autojumble will be between Saturday 3rd and Sunday 4th September 2016. With over 2000 stands at this signature Beaulieu event, each one groaning with all kinds of vintage and classic motoring ephemera, it is often said "If you can't find it at Beaulieu it doesn't exist!"

Classic Car Show - NEC Birmingham | 11th - 13th November 2016
"With over 2,000 stunning classic cars, 700 motorcycles, 250 car & bike clubs, 600 trade stands, and the biggest indoor Autojumble plus incredible not to be missed features, it's the UK's biggest and best classic motoring celebration of the year!"
The Volcanic Plateau Rally | March 2017
The Austin-Healey Car Club of New Zealand biennial rally 2017 will be held at Wairakei Resort, Taupo and organised by the National Rally Organising Committee (NROC) based in Auckland.

National Rally - Gold Coast 2017 | 28th April - 1st May 2017
Want to have a good time? Then join the Austin Healey Owners Club Queensland for their National Rally starting 28th April 2017 at Gold Coast, Queensland.
5th European Meeting - Black Forest 2018 | 10th - 16th June 2018
Save Sunday 10th to Saturday 16th June for the 5th European Meeting in 2018. Online booking for this event opens on Saturday 1st October 2016.