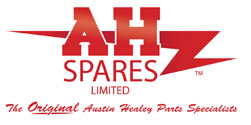 Below is a list of upcoming events we're sure you will find interesting. Click the links below to read more information.

If you are organising a classic car event and would like to see it listed here, contact us and let us know the details.¹
Retromobile Show: February 2015
The Retro Mobile will be in the Paris Expo between Wednesday 4th and Sunday 8th February 2015.

Come and see us at our stand E001, situated near the entrance.

Techno-Classica Essen: April 2015
The Techno Classica will be in Essen, Germany on 15th - 19th April 2015.

Enclave 2015
"Healeys on Hallowed Ground" will be held July 19th – 24th 2015 in Gettysburg, USA...

Silverstone Classic: July 2015
The Silverstone Classic will be on the 24th, 25th and 26th July 2015.

Classic Motor Show - 2015
The Classic Motor Show will be at the NEC Birmingham from Friday 13th until Sunday 15th November 2015.